Sullivan Solar Power has installed more solar power systems in San Diego than any other locally owned and headquartered company.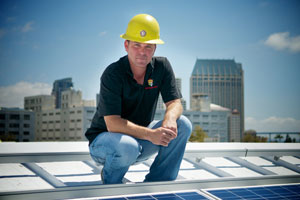 We are your local provider of turnkey solar power design and installation services. Sullivan Solar Power has installed over 8,000,000 watts of solar power systems in Southern California ranging from small scale residential systems to large scale commercial systems. Regardless of size and scope, Sullivan Solar Power has proven it can deliver. See our portfolio. See our portfolio.
Choose your solar contractor with prudence. Many firms are jumping into the solar market who have limited experience in solar despite claiming years of experience in other sectors. Check their references and then call Sullivan.
The Best Products
Sullivan Solar Power systems stand out among the rest. The reason being we monitor in real time the production of each system we design and install. While others claim to monitor system production, we actually do. As such we know what products work best in given conditions. Using our experience and data we can specify the proper solar power equipment for your needs. In this ever growing market there are claims of superior quality and efficiency from every entity in the business. By partnering with Sullivan Solar Power you can rest assured knowing that the solar power systems we specify actually produce what they are supposed to produce.
Highly Qualified Personnel
Our people are seasoned in the electrical contracting industry. Sullivan Solar Power brings over 40 years of combined field experience to our projects insuring our customers' needs are addressed with the highest level of quality and expertise. We have worked in every major jurisdiction in Southern California and are thoroughly familiar with applicable local codes and requirements. We are not learning on your project. We do not hire cheap labor to perform our installations. We employ State Licensed Electricians who are proficient with solar power system installation practices, have received over 5000 hours of classroom related study, are thoroughly versed in jobsite safety and code requirements, and are members of a drug free workforce.
Turnkey Capabilities
Sullivan Solar Power is a solar power design-build firm. We do not outsource or sublet any portion of project delivery. We have designed systems for the:
City of San Diego
San Diego Gas and Electric
San Diego Sate University
San Diego City College
Port of San Diego
City of Santee
City of Highland
Santa Fe College
A1 Self Storage
Academy of Our Lady of Peace
California Department of Forestry
and many others
We can assist any architectural firm, general contractor, general electrical contractor, engineering firm, business owner and homeowner alike.
We are your solution from CONCEPT TO COMPLETION.
We retain strong relationships with solar power manufacturers and suppliers to insure we procure our equipment in a timely manner so we can bring your system online faster than our competitors.
Locally Owned and Operated
Sullivan Solar Power is owned and operated by Daniel Sullivan. Daniel Sullivan is a State Licensed Master Electrician with over a decade of field experience. Born and raised in San Diego, Mr. Sullivan established Sullivan Solar Power to offer Southern California a Solar Power Solutions Provider that can deliver. Unlike the competition, based in Northern California and elsewhere, Sullivan Solar Power's offices are located in Miramar, San Diego allowing us to service San Diego, Los Angeles, Orange, Riverside and Imperial Counties. Sullivan Solar Power has managed tens of millions in solar power installations in San Diego. We are your local company with a long reach.
Qualifications
We are a licensed C-10 contractor. Therefore, we are able to deliver on all aspects of your solar power project.
All aspects of project delivery are done under the supervision of Daniel Sullivan, Chris Gleed and Sean Mazelli, each of whom carry a NABCEP certification. This is the highest level of certification for solar power system installers in the United States.
We are an FST monitor certified installer. We monitor system production on all the systems we sell. We have developed California's largest FST solar power monitoring network.
We have installed over 8,000,000 watts of solar power installations in Southern California.
General Liability to $2mil, Workers Comp to $2mil, Commercial Auto to $2mil, Professional Liability to $2mil
Combined company experience in the electrical contracting industry: In excess of 50 years.