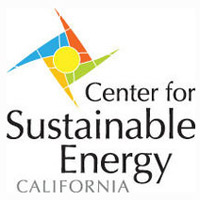 Just about everything you'll need to know to advance your private, corporate and stake-holder sustainability agenda.
The California Center for Sustainable Energy (CCSE) is a nonprofit organization dedicated to creating change for a clean energy future. Join us to learn about energy efficiency, renewable energy and clean transportation; take advantage of incentive programs and help promote sustainable policies and developing technologies.
Following are areas of special attention for the CCSE.
Climate Change - Reduce your carbon footprint one step at a time.
Through consultation and workshops, CCSE educates the community and the market place on the probable local impacts of Climate Change and what can be done to reduce our greenhouse gas (GHG) emissions. Let us help you calculate and reduce your carbon footprint today. Learn more.
Energy Efficiency - Learn how to economize to energize.
From free educational workshops to technical expertise, CCSE offers professional advice and cost-cutting strategies to help consumers and industry professionals implement energy efficiency solutions at home, work and play. Visit the energy resource center and learn how to save time, money and energy efficiently. Learn more.
Green Building - Build the present; shape a greener future.
CCSE helps business customers evaluate their facility designs and consumption practices to identify sustainable, cost-saving opportunities that support healthy, high-performance communities. CCSE also offers green building education and resources to fire survivors and others interested in building and rebuilding green homes. Attend a green building workshop to learn all the latest tools, techniques and technologies available to you when building green. Learn more.
Renewable Energy - Use clean energy to power your world.
Through various programs, CCSE also offers technical assistance and generous financial incentives to encourage the adoption of renewable technologies. CCSE provides the support and information needed to make the adoption of renewable energy an easy transition. Homeowners and solar industry experts are invited to join us for free solar workshops to learn the features and benefits of solar technology. Learn more.
Transportation - Drive past fossil fuel dependency.
California is the ninth largest emitter of carbon dioxide in the world and a third of this carbon dioxide comes from fossil fuel-burning vehicles. CCSE is committed to educating Californians on the benefits of alternative fuel vehicles to reduce greenhouse gas emissions and air pollution as well as save money on gas. Find out more about our transportation programs. Learn more.
Workshop and Event Calendar click here
Best Choice . . . visit the CCSE website now. click here now.
A proud memeber of